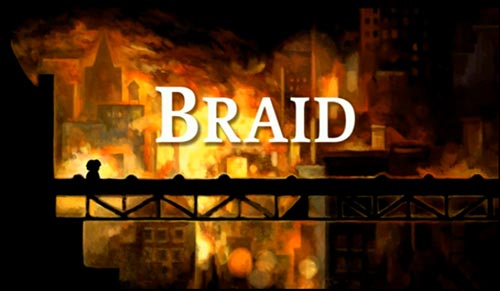 keywords: Irish folk music, fading-painting-style graphics, time control, XBox360/PC/Mac
Not exactly an "
undergound
" video game;
Braid
won the
design innovation award
at the 2006 IGF (
Independent Game Festival
), so I won't spend too much time here acclaiming this magum opus... yet -and it's pretty sad- now that the PC/Mac version is out, I realize how Braid still didn't fully reached the widespread notoriety it diserves.
Part of that maybe due to the wrong perception that this is "just another" plateform game disguised in some nice hand-drawn rendering.
Well, trust me, this is really not "just another plateform game". Sure Braid uses common gameplay mechanics one can see in hundreds of mario-like games: a princess to be saved, ladders to be climbed, deadly enemies to be scared of, and doors to be opened (through keys to be found). Sure...
But this is just the canvas underlying the real nature of Braid.
Braid is in essence a time-based game.
Throughout the adventure you'll be given 4 different time-bending capabilities.
When you pick up one of these manipulation techniques for the first time you quickly figure out the way it works... but then, confronted with some tricky situation, and after a few (enjoyable) headaches you'll find yourself looking at this same technique in a very weird way.
You'll merely start to understand how bad your brain is when it's time to think out of the box and almost feel it awaking as if it were an atrophied muscle.
Braid will make you realize how time is a very simple yet powerful game-mechanic largely underused in the video game history.
Portals, Trigger-Zones, Shadow Projections, 3D Prespectives, Time... etc; we are just starting to unveil how concepts we once thought basic in their usage are in fact latently powerful in their nature; if only we'd dare look at them from a different (yet humble) viewpoint.
Enjoy Braid (and kudos for its
creator
).